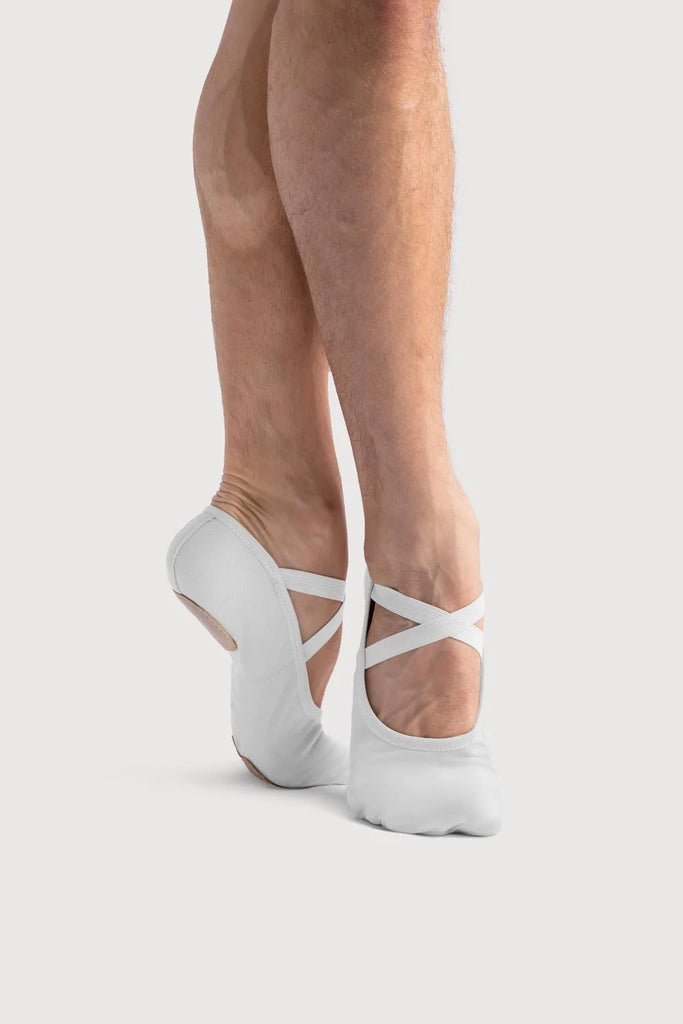 Bloch Performa Stretch Canvas Mens Ballet Flat
Description
This is THE lightweight ballet shoe that the dance market has demanded for elite performance. The super soft canvas has an almost 360-degree stretch capability which creates the feeling of a second skin with the foot and shoe moving and working together as one. The upper has been styled for extreme toe comfort with no binding or drawstring to distort the top line which modernises the designs while the under arch adheres to the instep creating a streamlined aesthetic.
The generous split sole pads have been contoured for ultimate balance with the front pad encompassing all the weight distribution on demi pointe, while the heel pad has a shock absorbing cushioning. The elastics have been pre-sewn in the X feature for practical and easy wear. The Performa is designed with an all-inclusive range of shades to match varying skin tones, removing the necessity of dyeing the canvas to match your skin.

Stretch durable canvas – Molds to foot to ensure a smooth sleek fit
Flat elastic binding – Relieves pressure and bulkiness on the upper foot
Pre-sewn X elastic – No sewing required, so shoes are ready to wear immediately
Suede wide kidney shaped outsole front pad – Wider spread for metatarsal comfort
Curved heel shape – Reflects the contour of the heel especially when pointing
Wide range of available shades – For an all-inclusive skin-tone ballet shoe
Features:
Upper Material: Stretch canvas
Outsole Material: Suede
Lining Material: Feature
Sock Material: Textile
Fastening: Pre-sewn crossed elastics
Sole: Split Sole
Heel Cushion: Yes
Dancer Level: Intermediate to Advanced
Colours: Various
Widths: B,C,D
Sizes: 5 – 12.5
Forefoot Pad: Split Sole (Kidney)
For reasons of their own, BLOCH doesn't allow us to exhibit prices online. BLOCH products that display "out of stock/sold out" may not represent our actual stock level. If you are interested in this product, please contact us by clicking "enquire now".
Additional