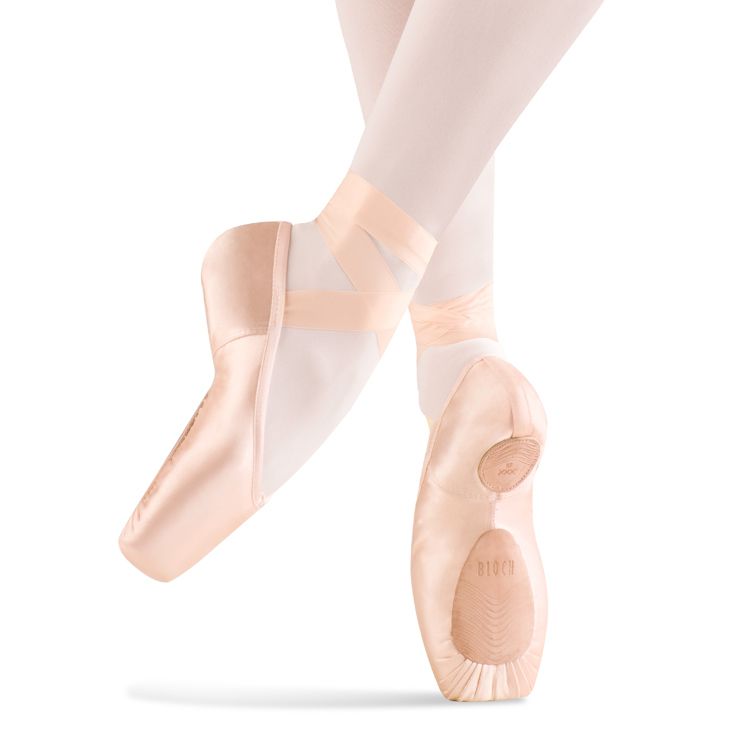 BLOCH EUROSTRETCH POINTE SHOE
Description
The Eurostretch features a unique stretch satin upper which lengthens when the foot is flat or in demi plié and returns to its original form when 'en pointe'. The innovative stretch satin ensures an overall wrinkle free profile. The composite fabric encased Shank structurally complements the bone and muscular shape of the foot while supporting the ¾ break of the instep.
The heel alignment is kept in place by an elastic strap between the layers of the Shank. A fortifying centre tack provides additional Shank resilience. The split Outsole allows the Shank the freedom to move with foot articulation.
The Upper lining is divided into three fabric sections featuring a light weight stretch fabric Box lining, a narrow section of thin material for easy sewing of ribbons plus the soft suede heel cups the back of the foot providing a non slip surface.
The elastic Drawstring is encased in a stretch satin binding. Inside the Box at the Platform is a soft sponge cushion, which gives extra comfort and protection when standing 'en pointe' and acts as a shock absorber.
Shank strength - Flexible and supportive
Last curved - Emphasises the arch of the foot 'en pointe' 
Shank (insole) Flexible - Assists in arching the foot 
Elastic drawstring - Improved fit of the upper 
Standard 'A' paste - Has resilience and is less affected by climatic conditions such as heat and humidity
Heel shape medium - Cradles the heel and holds the shape
Side low cut - Enhances the profile of the foot
Outsole split - Increases shank contact with the arch
Platform wide - Enables lateral support and stability 'en pointe'
Vamp shape open U - Holds the foot 'en pointe'
Vamp length medium - Supports the foot
POINTE SHOES SHOULD BE PROFESSIONALLY FITTED - ONLY ORDER IF YOU ARE CERTAIN OF YOUR EXACT STYLE, SIZE AND WIDTH OF SHOE.
For reasons of their own, BLOCH doesn't allow us to exhibit prices online. BLOCH products that display "out of stock/sold out" may not represent our actual stock level. If you are interested in this product, please contact us by clicking "enquire now".
Additional