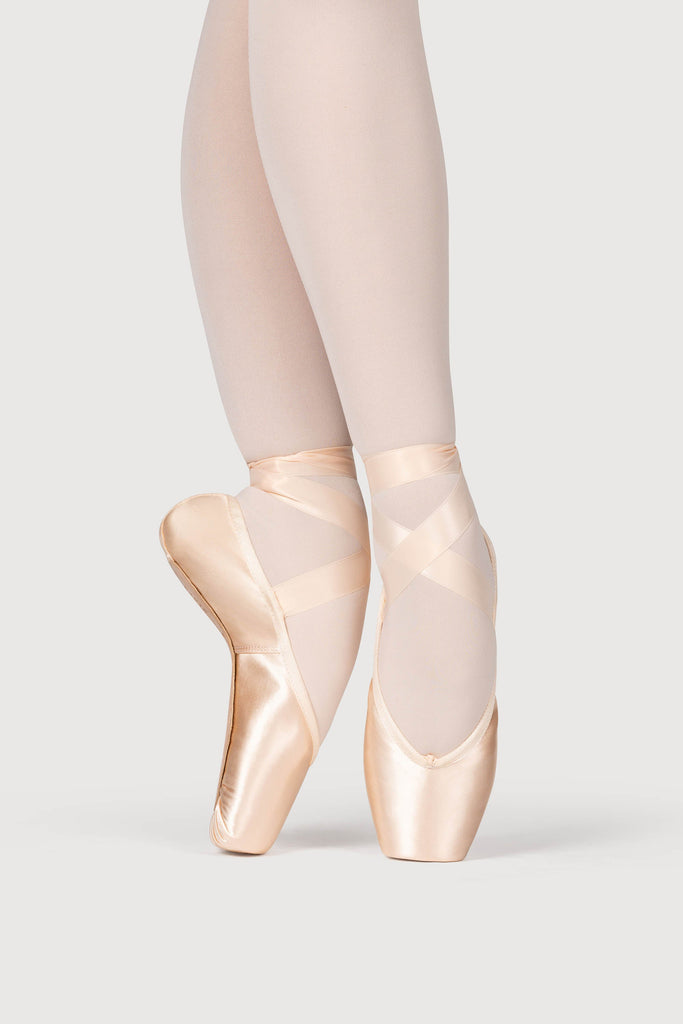 BLOCH RAFFINÉ POINTE SHOE
Description
Inspired by our Eastern European lineage, Raffiné takes inspiration from our Heritage pointe shoe and innovates further to deliver a shoe with enhanced lines, built-in noise reduction, and enhanced arch support. The contoured heel construction and shorter outsole of the Raffiné create an elegant line closely following the natural shape of the foot while en pointe. The reinforced satin provides durability and minimises noise.
Enhanced lines - Excess material has been removed from the heel and a shorter outsole has been used to allow the shoe to follow the natural line of the heel more closely while en pointe.
Arch support - Provides additional support in the arch of the foot while still allowing for the full articulation of a classic insole.
Noise Reduction - Additional layering through the pleats and platform base provides up to 8 times more insulation from noise.
Long lasting - Reinforced satin material is stronger and longer lasting than traditional satins and helps to reduce wrinkles providing an overall smoother look.
Features:
Upper Material:

 Reinforced satin

Outsole Material:

 

Leather

Lining Material:

 

Cotton

Sock Material:

 

Suede

Sole:

 

Full Length

Heel Cushion:

 No

Dancer Level:

 

All

Colours:

 

Pink

Widths:

 

NX, X, XX, XXX, XXXX

Sizes:

 3 - 8.5

Drawstring:

 

Cord

Last Shape:

 

Curved

Shank/Insole:

 Supportive

Vamp Length:

 

Medium

Vamp Shape:

 

V

Platform Shape:

 

Oblong

Sides/Seam:

 

Low/ Straight

Heel Shape:

 Cupped heel

Paste:

 

'A' Paste

Box Cushioning:

 Inner Platform 

Toe Cushion
POINTE SHOES SHOULD BE PROFESSIONALLY FITTED - ONLY ORDER IF YOU ARE CERTAIN OF YOUR EXACT STYLE, SIZE AND WIDTH OF SHOE.
For reasons of their own, BLOCH doesn't allow us to exhibit prices online. BLOCH products that display "out of stock/sold out" may not represent our actual stock level. If you are interested in this product, please contact us by clicking "enquire now".
Additional